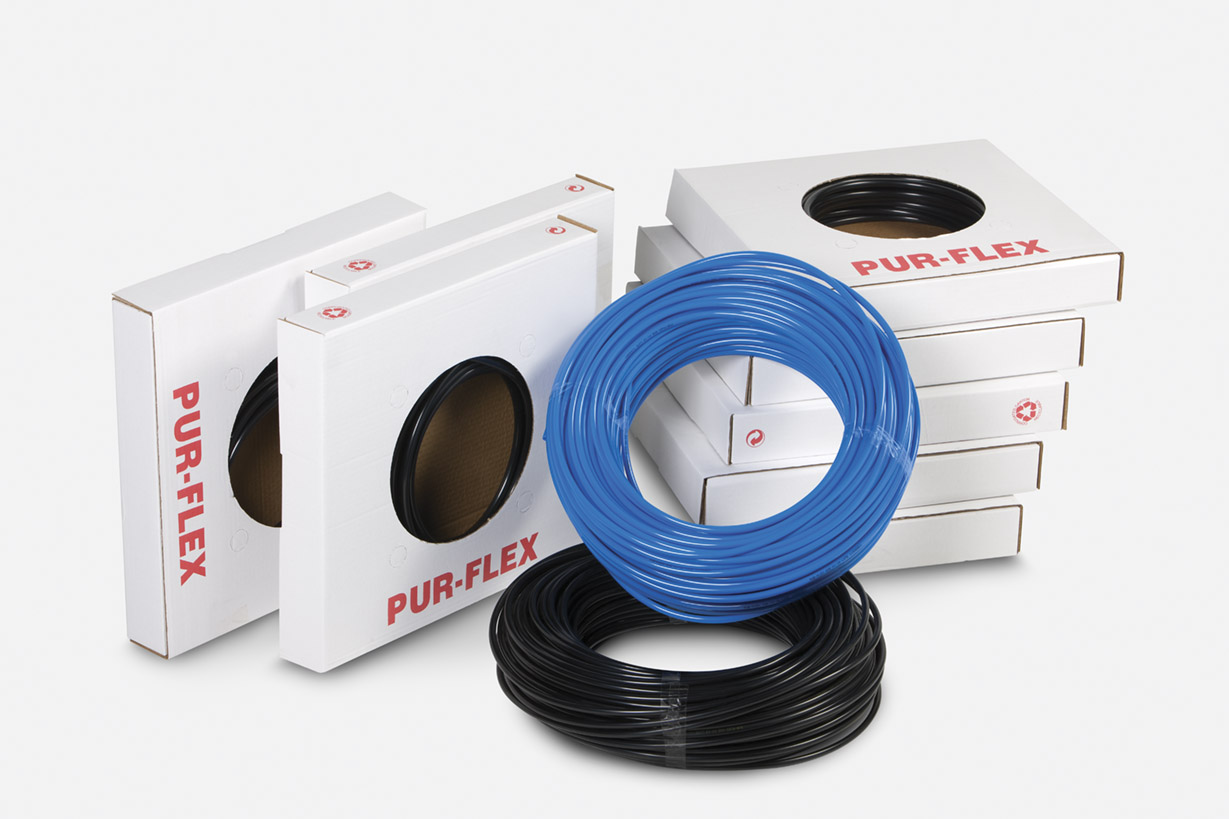 Polyurethane pneumatic tubing.
High flexibility and adaptation to small bend radius.
Minimum shape memory.
Standard colors and diameters in shore 98A
Production under client requirements, form 3mm to 16mm Ø outer, polyester or polyether based.
Non-toxic products for food or medical applications, manufactured in clean plant.
Supplied in:
boxes of 25 meters
rolls of 100 meters
large rolls from 200 to 2000 meters according to client requirements.
Technical specifications
Good resistance to temperature, from -50 º C to 80 º C; occasional use at 100 º C; broken point at -70 º C. Small radius of curvature, see table.
Product widely used in pneumatic systems where the installation is simple, even in small facilities, because of the flexibility and manageability of the product.
High flexibility even at low temperature.
The high degree of elasticity, produced by the flexible nature of the material, ensures excellent bending resistance, dubbing and crushing with little memory.
High absorbent power.
Excellent resistance to abrasion and cuts.
Good chemical resistance, see table.
Designed to work with a wide range of fittings commonly used in industry.
The polyester-based polyurethane: High chemical resistance and durability.
The polyether-based polyurethane: Highly resistant to moisture and saline environments.
Their resistance to low temperatures (Supports up to 40 degrees below zero), the excellent resistance to abrasion, contact with oil, its optimal performance in hydrocyclones and valve drive pumps mud, make this material the thermal rigid with wider application in different areas of the industry.
| DIAMETER m/m | working pressure at 20ºC (bars) | Minimum bend radius (mm) |
| --- | --- | --- |
| 2,5x4 | 12 | 10 |
| 4x6 | 12 | 18 |
| 5,5x8 | 12 | 20 |
| 7x10 | 10 | 25 |
| 8x12 | 12 | 40 |
To view the Bars of resistance at other temperatures, bars must be multiplied by the following coefficients shown in the table.
| TEMP. | Coeficient |
| --- | --- |
| a 40 ºC | 0,70 |
| a 60 oC | 0,55 |
| a 80 oC | 0,40 |